After almost a month of top-class European football, we'
ve
come to the last day and are left with two teams: reigning World Cup and European champions, Spain, and four-time World Cup-winners, Italy.
The last time these two faced off was in this very tournament, as they were drawn in the same group. That game ended 1-1, but many will be watching this match with much more intrigue as to which changes might be taken into affect for each team.
Spain
For Spain, their "False 9" tactic got them all the way to the final. Now although their 4-6-0 formation allowed them to control most of their games with ease, Spain's most recent match against Portugal showed this formation's main flaw, and that is that you need to actually attack the goal to win the game.
It would be senseless for Spain to simply hold onto the ball for most of the match if they don't plan on doing anything with it.
Much of the reason as to why they are not creating as many chances is because there
isn
't a legitimate target man up front.
They tried and failed with
Negredo
upfront against Portugal, who was subbed off for Fabregas late into the game. Torres played well against Ireland, but that
isn
't saying much considering Ireland's overall performance at this Euro. Fernando
Llorente
still
hasn
't acquired Vincent Del
Bosque
's trust to give him a single appearance for Spain this Euro.
If Del
Bosque
wants to threaten Italy on all fronts, he has to combine his tactics. The possession game will stay regardless, but there needs to be at least one man up front, and if they plan to play wide, that man is Fernando
Llorente
.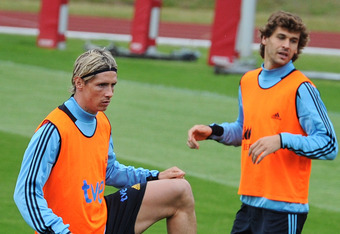 Jasper Juinen/Getty Images
Italy
For Italy to get this far with the players that they have is a testament to their heart and determination. The installation of youth in the squad that have been led by Italy's old guard (
Buffon
, De
Rossi
,
Pirlo
) leaves a perfect combination of players that has been led by an optimistic and talented coach in Cesare
Prandelli
.
Prandelli
's tactics of high press, attack and selflessness within the team have led them to an unbeaten streak against teams like Germany, England and Spain this tournament.
The only thing they have to do now is to employ everything they'
ve
done against every big team they'
ve
faced and multiply that by two against Spain.
Tactically, the high press has worked for Italy, but it's necessary for the right players to be on the pitch. Ricardo
Montolivo
doesn
't need to be on the pitch against Spain. Italy already have creators in
Andrea

Pirlo
and Antonio
Cassano
. He needs to be replaced by Antonio
Nocerino
so that he and Claudio
Marchisio
can run up and down the pitch, allowing
Pirlo
to work his magic (a similar tactic was employed by
Juventus
in their championship-winning run in which they used
Marchisio
and Arturo Vidal to pull attention away from
Pirlo
).
Elsewhere, there don't seem to be any changes that need to be made against Spain. Of course, if
Pirlo
is being closed down too often, then
Montolivo
could make an appearance and carry some of the
playmaking
slack.
Other than that, all Italy need to do is carry the team spirit and confidence that they brought with them against Germany and dish it out in the final match of the Euro.